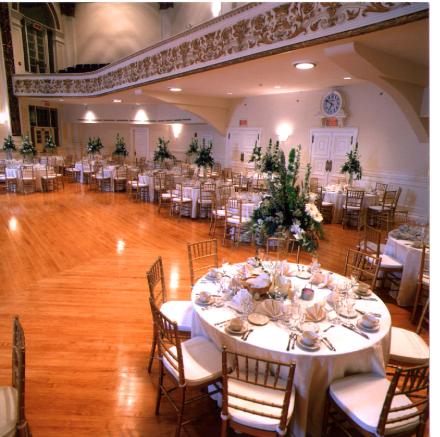 Tuckerman Hall weddings are dazzling. They combine all of the elements that make our facility so special: timeless beauty, elegance, sophistication, and uncompromising attention to detail. Tuckerman Hall melds the stunning classic beauty of The Gilded Age with modern amenities to produce an unforgettable wedding experience. With just one wedding per weekend, we focus solely on you to ensure that your special day unfolds exactly as you intend it.
Size
Accommodating comfortably up to 200 guests, Tuckerman Hall's facilities can host wedding ceremonies, dinner and dancing, cocktail receptions, and spaces for bridal parties to congregate, have sumptuous hors d'oeuvres, and have pictures taken. Whether your wedding is an intimate celebration for 75 guests or a grand affair for 200, no detail is too small for our attention. The acoustics in our main hall are legendary; and there is a stage in each of our principal halls, complete with a grand piano.
Services
Our award-winning caterer stands ready to provide you with exceptionally delicious food and first-class service. In addition, we are happy to refer you (if you have not already selected your own) to a distinguished list of recommended event planners, florists, photographers, videographers, bands, DJs, cake-makers, invitation professionals, limousine companies and other highly-respected wedding professionals.
Alcohol
Tuckerman Hall has an all-alcoholic liquor license and is the exclusive purveyor of all alcohol and beverages for all weddings. Bars can be open, cash, or a combination of both. Wine service is also available and virtually any wine or special liquor (with advance notice) is available for your event. All patrons consuming alcohol must be age 21 or older.
Parking
Parking is available for a fee immediately adjacent to Tuckerman Hall in two lots containing 65 spaces at 39 Salisbury Street; an additional 15 complimentary spaces are available at 10 Institute Road; Both Tuckerman Street and Harvard Street each have 25 on-street parking spaces; and the municipal lot a block and a half away from Tuckerman Hall at the corner of Harvard and Highland Streets has 90 spaces.
Tuckerman Hall is owned and operated by the Massachusetts Symphony Orchestra, Inc., a Massachusetts non-profit corporation. For more information, please call 508-754-1234.